Xthetic
®

denture fx

Intensive customizing colors for particularly esthetic dentures

Acrylic resin for individual color characterization of full and partial dentures. Compatible with all common PMMA-based denture materials.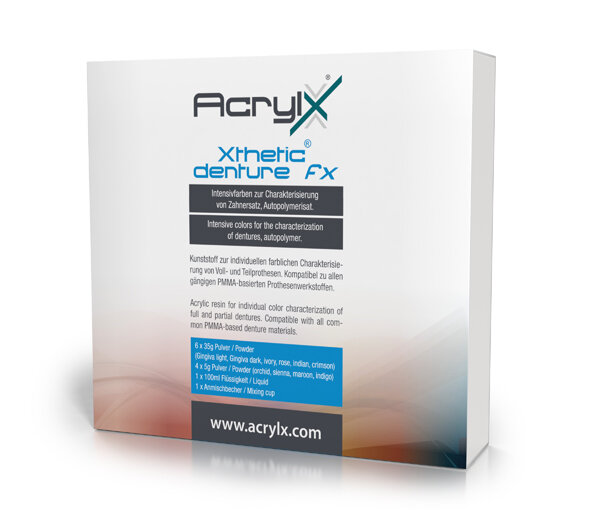 The intensive shades are used for the color characterization of the artificial gingiva in the fabrication of full and partial dentures. Due to the processing in the insertion technique by direct application into the silicone key or the duplicating form made of agar gel, a chemical bond is achieved with the used denture resin. Unlike stains, the natural color effect is much higher here, as the colors blend into one another.
Of course, the colors can also be added to any common denture acrylic polymer to customize the respective denture color.

Product features
easy processing with the insertion technique
natural coloration
easy polishing
absolute color stability
Cadmium free
---
Delivery forms:
Powder: 5g, 35g, 100g (only Gingiva light and dark)
Liquid: 100ml
The set includes 5g each of orchid, sienna, maroon and indigo and 35g each of ivory, rose, indian, crimson, gingiva light, gingiva dark and 100ml modeling liquid.
Shades:
The material is available in Ivory, Rose, Indian, Crimson, Orchid, Sienna, Maroon and Indigo as well as the gingiva colors light and dark.
Note:
Medical Device. Classification according to ISO 20795-1, Type 2 group 1 and according to MDD 93/42/EEC Annex IX, Class IIa for removable and for fixed dentures.